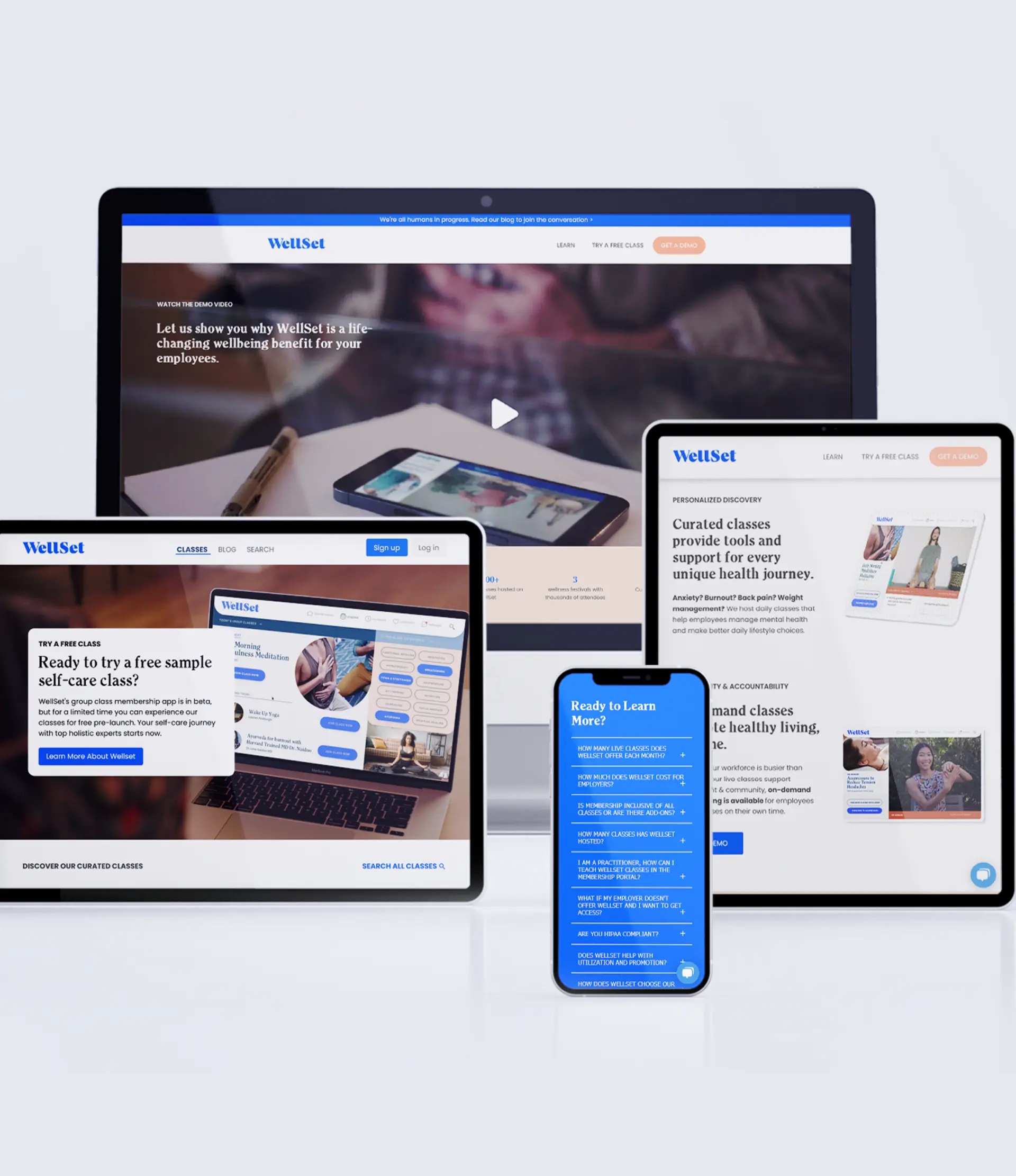 WellSet
WellSet is the platform that bring more than 20 wellness and holistic health modalities together. From this platform user find wellness practitioner and book their time slots.
Revyrie is responsible for the product development and successfully launched the site. WellSet is a life-changing wellbeing benefit for the employees.They host daily classes that help employees manage mental health and make better daily lifestyle choices. Their work has been featured in The New York Times, TIME Magazine, FastCo Design, Mashable, TechCrunch, VOGUE Magazine, Well+Good, and many others.
Task
Rebuild a unified visual system for the advertising agency, made of steel which can change the world in a while.
Strategy

Brand Strategy, UX Strategy

Design

UI/UX Design, Art Direction

Client

Sandbox
[vc_row full_width="stretch_row" css=".vc_custom_1577184047146{border-bottom-width: 1px !important;background-color: rgba(136,136,136,0.05) !important;*background-color: rgb(136,136,136) !important;border-bottom-color: rgba(136,136,136,0.1) !important;border-bottom-style: solid !important;}" side_background_title_typo="null"][vc_column][vc_empty_space height="70px" el_class="clb__section_spacer"][vc_row_inner][vc_column_inner width="1/2″][ohio_heading subtitle_type_layout="top_subtitle" module_type_layout="on_left" heading_type="h2″ title="R290JTIwYSUyMHByb2plY3QlM0Y=" subtitle="TGV0JUUyJTgwJTk5cyUyMGNvbGxhYm9yYXRl" title_typo="null" subtitle_typo="{"font_size":"","line_height":"","letter_spacing":"","color":"","weight":"inherit","style":"uppercase","use_custom_font":false}"][/vc_column_inner][vc_column_inner width="1/2″][vc_empty_space height="40px" el_class="clb__spacer vc_hidden-xs"][ohio_button layout="fill" shape_position="right" icon_use="1″ icon_position="right" link="url:https%3A%2F%2Fohio.clbthemes.com%2Fcontact-us-ver4%2F|title:Contact%20Us||" icon_as_icon="ion ion-md-arrow-forward" title_typo="null" title_typo_hover="null" css_class="clb__alignment_reset"][/vc_column_inner][/vc_row_inner][vc_empty_space height="20px" el_class="vc_hidden-lg vc_hidden-md vc_hidden-sm"][vc_separator color="custom" accent_color="rgba(136,136,136,0.8)"][vc_row_inner][vc_column_inner width="1/2″][ohio_text text_typo="{"font_size":"17","line_height":"28","letter_spacing":"","color":"","weight":"inherit","style":"inherit","use_custom_font":false}"]We're a team of creatives who are excited about unique ideas and help fin-tech companies to create amazing identity by crafting top-notch UI/UX.[/ohio_text][/vc_column_inner][vc_column_inner width="1/2″][/vc_column_inner][/vc_row_inner][vc_empty_space height="70px" el_class="clb__section_spacer"][/vc_column][/vc_row]